Cambodia's Lake, Rivers & Mountains
See Angkor Wat and Cambodia's natural wonders of Tonle Sap, the Mekong River and Cardamom Mountains.
Customizable private tour with flexible start date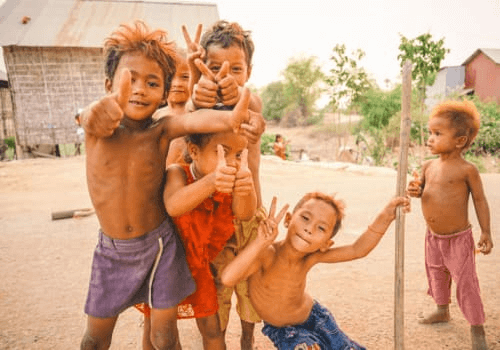 Cambodia is best known for its astonishing temple complex of Angkor Wat, but it should also be known for its wildlife, much of which is extremely rare, and for its gloriously rich and scenic forests and wetlands. This Cambodia lake, rivers, and Cardamom Mountains tour is a soft adventure for ecotourists that also includes the Angkor temples, cultural interaction and exploration of the history and architectural wonders of Phnom Penh.
Tonle Sap Lake and the Temples of Angkor
Begin your tour by kayaking on the great Tonle Sap Lake, paddle through a floating village where you will be welcomed by the warm smiles of the local residents. Keep your eyes peeled for rare bird species from the nearby wildlife sanctuary. Explore Angkor Wat, one of the modern wonders of the world. Stroll through the intricately carved hallways and take your time to see every part of this amazing complex. Cycle to the ancient city area of Angkor Thom, with its carved-stone faces standing as silent witnesses to former days of glory, and Ta Prohm, a temple complex slowly being reclaimed by the jungle. You'll also visit Banteay Srei and many more.
Your Mekong Cruise
Board a luxurious, art-inspired colonial styled riverboat for a downriver cruise along the mighty Mekong. See the Koh Paen Bamboo Bridge, visit the enchanting pre-Angkorian temple of Wat Hanchey and observe the daily activities of the young, novice monks. Step back in time at the small village of Angkor Ban, famous for its traditional houses. On the island of Koh Oknha Tey, witness the fascinating methods involved in the making of silk. Explore a Khmer pottery village. Learn about the process of making palm sugar. Visit a local school and travel by ox-cart through the countryside, rice fields, and Cambodian backroads.
Phnom Penh and surroundings
Learn about Cambodia's tragic past at the Tuol Sleng Genocide Museum, the former site of the Security Prison S-21 established by the Khmer Rouge regime. Visiting the Killing Fields at Choeung Ek is not a warm experience but it is essential if you want to understand what happened in Cambodia during the time of the Pol Pot regime. Admire the stately columns of the Royal Palace, visit the National Museum, the Silver Pagoda, and enjoy a "cyclo" ride along the bustling streets of downtown Phnom Penh. Later, relish a private evening tuk-tuk tour and discover some of the city's coolest hidden bars. Spend a full day bicycling in the charming countryside surrounding Phnom Penh, exploring markets, villages, pagodas, the silversmith village of Koh Chen and the remarkably well-preserved wall paintings at Wat Kampong Tralach Leu. Visit Cambodia's foremost wildlife rescue center and meet pileated gibbons, Malaysian sun bears, Siamese crocodiles, Greater Adjutant storks and many more.
The Cardamom Mountains
Travel through jungle scenery to the community-based tourism project of Chi Pat, which seeks to protect the wildlife and showcase the regional beauty of the area. Board a motorboat for a 90-minute river journey to your riverside guesthouse; make a small jungle trek and swim in the fresh clear mountainous river water. Spend another day swimming and boating on the Cattle Skin River and return to Phnom Penh to watch an Apsara Dance Show.
This adventure tour can be tailored in accordance with your personal wishes. All excursions and transfers are on a private basis, with the exception of the cruise portion, which is shared with other passengers.
14 DAY
14 Day – Cambodia's Lake, Rivers & Mountains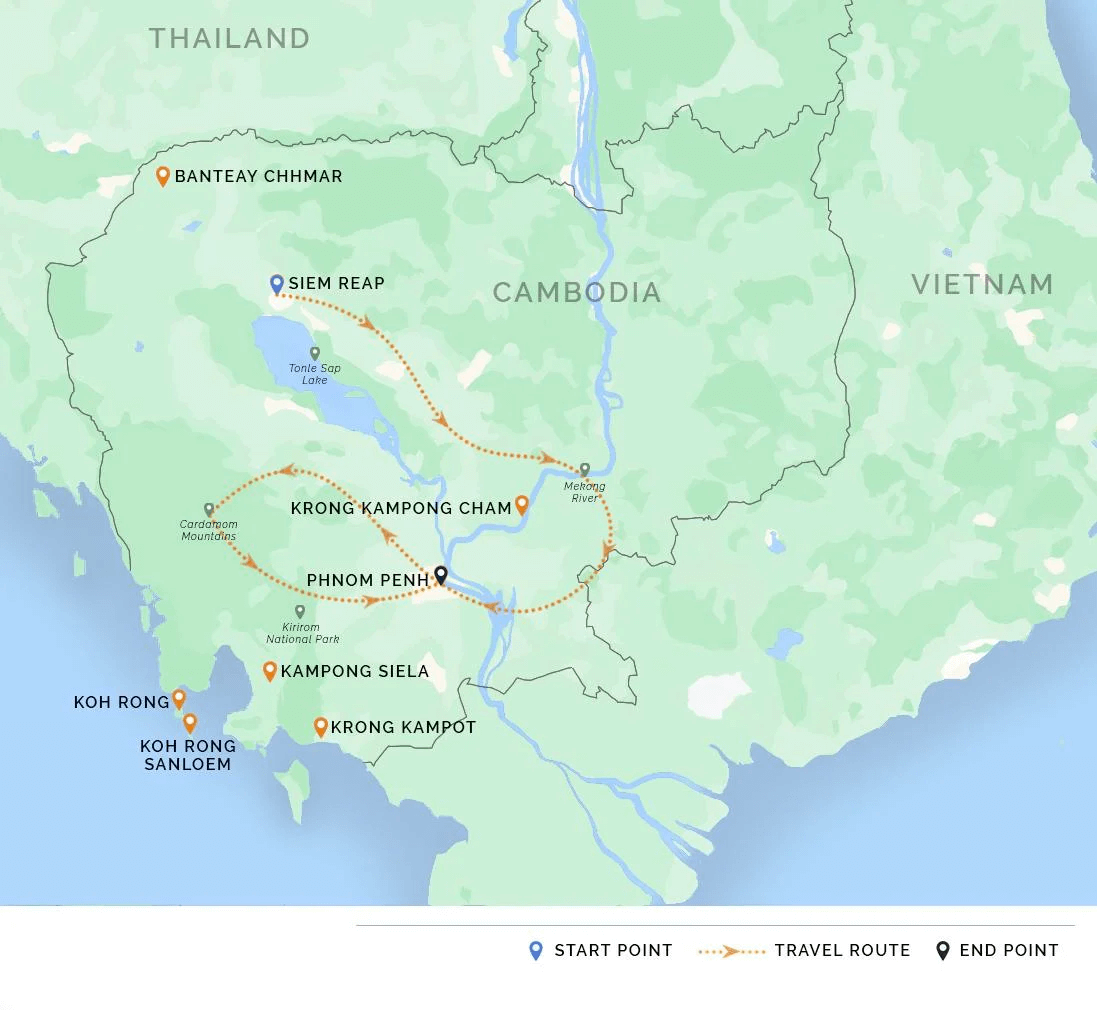 AVAILABILITY
| | | |
| --- | --- | --- |
| Accommodations | Double | Single |
| Boutique | $ 4,610 | $ 7,000 |
PLACES VISITED
Angkor Thom
Angkor Wat
Siem Reap
Phnom Penh
ACTIVITIES
Animal Rescue Centers
Back-Country Bike Rides
Experience Village Life
Explore Ancient Archaeology
Practice Tai Chi
Temples & Spirituality
UNESCO World Heritage Sites
Unique Photo Opportunities
This customizable tour can start on any date, subject to availability.
This floating art gallery and French-colonial masterpiece comes with heartfelt Khmer hospitality.