Classic Laos: Luang Prabang & Vientiane
Laos' classic Mekong River cruise from her ancient to current capital, Luang Prabang to Vientiane.
Customizable private tour with flexible start date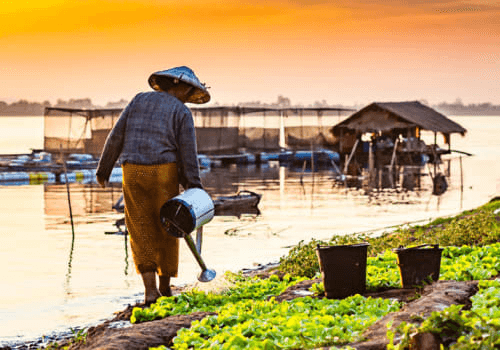 This Laos classic tour to Luang Prabang and Vientiane is perfect for active families. Explore Luang Prabang and the countryside by bike and by boat down the Mekong River. Enjoy jungle walking tours and waterfall explorations and meet ethnic tribes and the rescued elephants and bears on this unforgettable vacation.
Your Mekong River Cruise
Step aboard a sumptuous French-colonial-styled riverboat for a leisurely Mekong River cruise through Laos to Luang Prabang. While discovering the most beautiful, remote, areas of Laos in utmost luxury, you will see serene nature, isolated villages and magnificent temples. Hang out with the elephants at an elephant preservation sanctuary. Meet the local ethnic Lao, Khmu, and Hmong residents at the tiny village of Kop Aek, and dive into centuries-old traditions and practices. Observe the local weavers honoring their timeworn traditional crafts at the village of Muang Keo, and take a short and easy trek to the famous Pak Ou Caves on the Mekong's rocky shore.
Luang Prabang
Luang Prabang is a tiny city, which has been a UNESCO World Heritage site since 1995; it is one of Laos' best-loved destinations. Enjoy a captivating evening of traditional storytelling and music in an intimate theatre. Spend a day biking through the surrounding areas, marvel at Wat Pa Phon Phao, a golden temple with a great view of Luang Prabang. Cycle through villages, past jungle-covered mountains, through teakwood forests and rice fields along the banks of the Nam Khan River. Board a boat for a cruise upriver to the Tad Sae Waterfall for lunch and a swim.
Waterfalls, Farming, Elephants and Bears
Visit the vibrant Phou Si Market, and then take a leisurely hike to the Kuang Si Bear Rescue Centre. Observe one of the country's most endangered species; learn about the threats to bears and what can be done to protect the precious wildlife of Laos, and help out with the bears' midday scatter feed. Afterward, walk to the beautiful cascading Kuang Si Waterfall, where you can swim if you wish. Spend an enjoyable half-day on a community-based rice farm situated in the idyllic countryside, experience the life of a farmer by trying your hand at some farm activities. You will also have the opportunity to learn about bamboo weaving, blacksmith work, and sugar cane processing. Tour the organic garden and learn how natural herbs are used in traditional medicine. Visit the Mandalao Reserve Elephant Sanctuary, meet and bond with the elephants and then accompany them on a 2-hour trek through the beautiful Lao jungle, passing traditional Lao farms and the Huay Nok stream, where the elephants may frolic in its cool waters.
Vientiane
In the Laotian capital of Vientiane, visit the famous Buddha Park, a quirky concrete sculpture garden that is home to over 200 statues depicting Buddhist and Hindu figures, as well as animals, humans, and demons. Enter through the mouth of a 10-foot-tall demon head and climb staircases from Hell to Heaven. View sculptures at each level with a panoramic viewpoint at the top level.
Please note this itinerary is just a sample that can be tailored in accordance with your personal wishes. All excursions and transfers are on a private basis, with the exception of the cruise portion, which is shared with other passengers.
10 DAY
10 Day – Classic Laos: Luang Prabang & Vientiane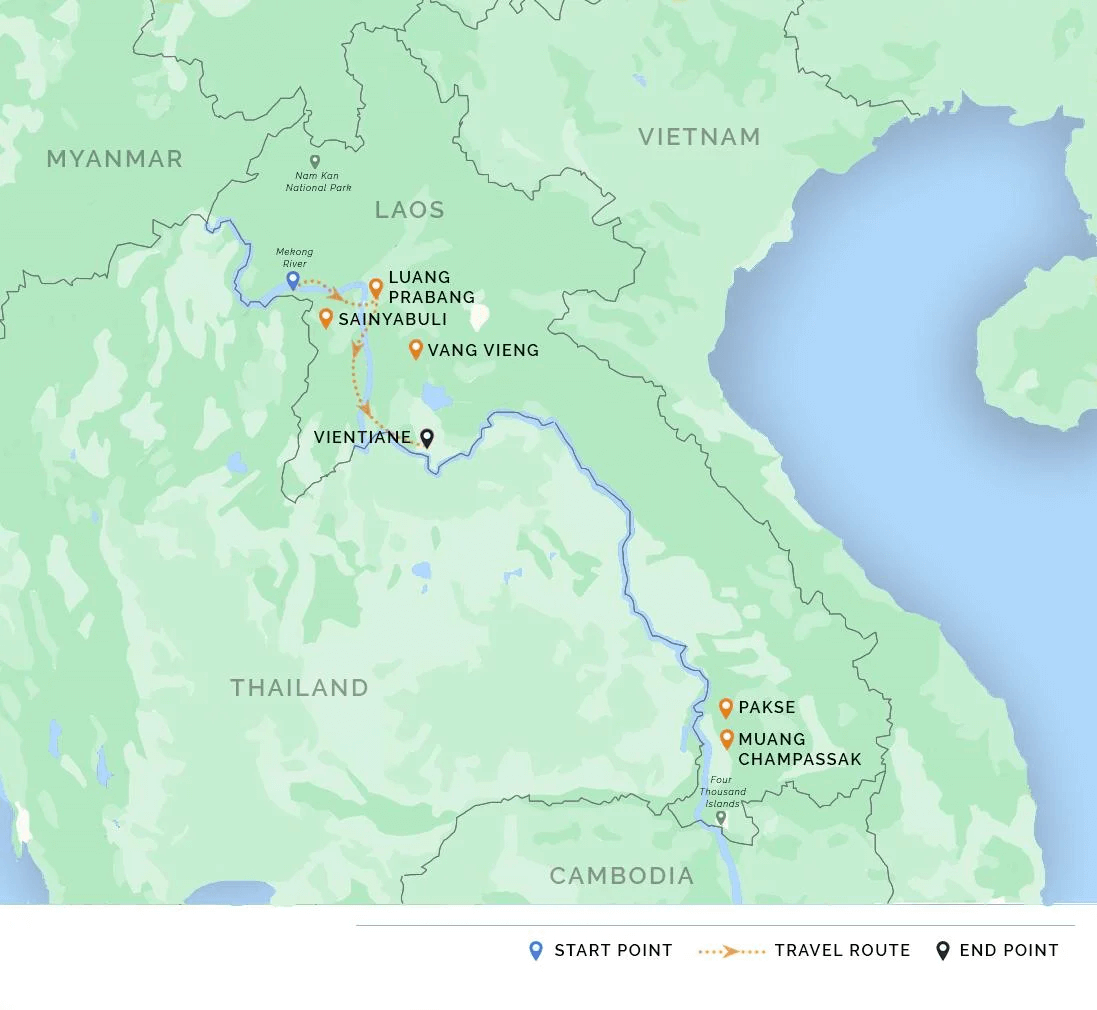 AVAILABILITY
| | | |
| --- | --- | --- |
| Accommodations | Double | Single |
| Boutique | $ 2,950 | $ 4,510 |
PLACES VISITED
Laos Mekong
Luang Prabang
Vientiane
ACTIVITIES
Animal Rescue Centers
Breathtaking Natural Scenery
Colonial Era History
Cultural Performances
Folklore and Traditions
Practice Tai Chi
Ride Traditional Ox Carts
Temples & Spirituality
Sustainability Practices
UNESCO World Heritage Sites
Unique Photo Opportunities
This customizable tour can start on any date, subject to availability.
The first boutique ship to cruise the Upper Mekong, blends Laotian art with French-Colonial style.