Family Adventure Holiday Vietnam
Fun Vietnam family adventure to meet hill tribes and explore the Mekong Delta and Cu Chi tunnels.
Customizable private tour with flexible start date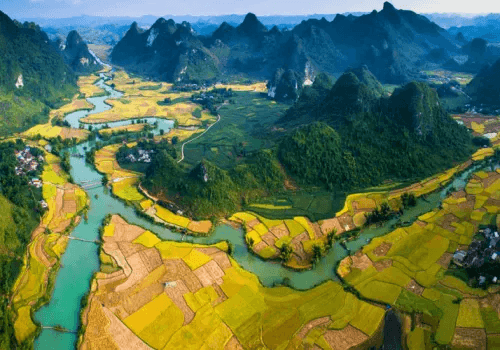 With delicious food, a fascinating culture and history, lush scenery and friendly people, Vietnam is a country that's easy to fall in love with. Explore Hanoi together on a cyclo, delight at the water puppets, meet the hill tribes in the Mai Chau Valley. Check out the street food scene in Saigon, participate in farming activities, explore the famous Cu Chi tunnels, and conclude with a riverboat journey that will take you across the border into Cambodia. With so much to share and do together, this is a Vietnam family adventure that you and your kids will always remember.
Hanoi and beyond
A cyclo tour of Hanoi is an excellent introduction to this charming old city, and the novelty of travelling on these three-wheeled wonders is a thrill for all ages. Visit national monuments, the Hoan Kiem Lake, and glimpse the daily local life in the backstreets of the French Quarter. Watch the Quintessence of Tonkin, a live stage show that will introduce you to Vietnamese customs and culture. Visit the ancient capital of Hoa Lua and the Van Long Nature Reserve.
Meet the Hill Tribes
In the Mai Chau Valley, meet the Hmong hill tribe in the village of Xa Linh and learn about Vietnam's cultural heritage. A family bicycle ride or a trek through the scenic valley past lush rice fields and idyllic villages is highly recommended.
Meet the water puppet man
Learn traditional water puppet theater from a master. Water puppetry originated in the wet rice fields of Vietnam's Red River Delta. During the flooding of the fields in between crops, farmers created and introduced water puppets to entertain themselves and their families. Watch a show, handle the puppets and explore the art.
Saigon and the Cu Chi countryside and Tunnels
Relish a food tour of Saigon and dine with a local family. Pedal at a leisurely pace through the peaceful villages, fertile farmlands, and quiet canals of the Cu Chi countryside, visit an agricultural village, participate in some farming activities, and witness the process of making rice paper. With your guide, you will then explore the Cu Chi tunnels, which played a vital role for the Viet Cong troops as communication and supply routes, hospitals, food and weapon caches, and living quarters for numerous North Vietnamese fighters. You and your kids can even crawl around in the safer parts for a unique experience of what underground life in the war was like. The Cu Chi Tunnels are not frightening for most kids, but they are sobering.
Sampan Donation
The Mekong Delta is a sprawling region of intensively cultivated land, where the lives of the locals are dependent on the Mekong River and its myriad of tributaries and canals. Sampan boats are crucial for making a livelihood here, yet some families can't afford to buy one. In a specially arranged ceremony witnessed by local authorities, you can donate a sampan to one family in need.
Your river cruise to Phnom Penh
Board a luxurious French Colonial riverboat and discover the charms of the Mekong River with its remote villages, historic cities, and ancient temples. Observe traditional life at Cai Be where all the activity is on the water. See the sights at the historic town of Sa Dec, visit the charming island of Cu Lao Gieng, and watch the women weaving traditional Khymer scarves at the island village of Hong Ngu. Finally cross the border into Cambodia, where you will observe a fascinating transformation in the riverfront architecture.
Please note this itinerary for a family adventure holiday in Vietnam is just a sample that can be tailored in accordance with your personal wishes. All excursions and transfers are on a private basis, with the exception of the cruise portion, which is shared with other passengers.
14 DAY
14 Day – Family Adventure Holiday Vietnam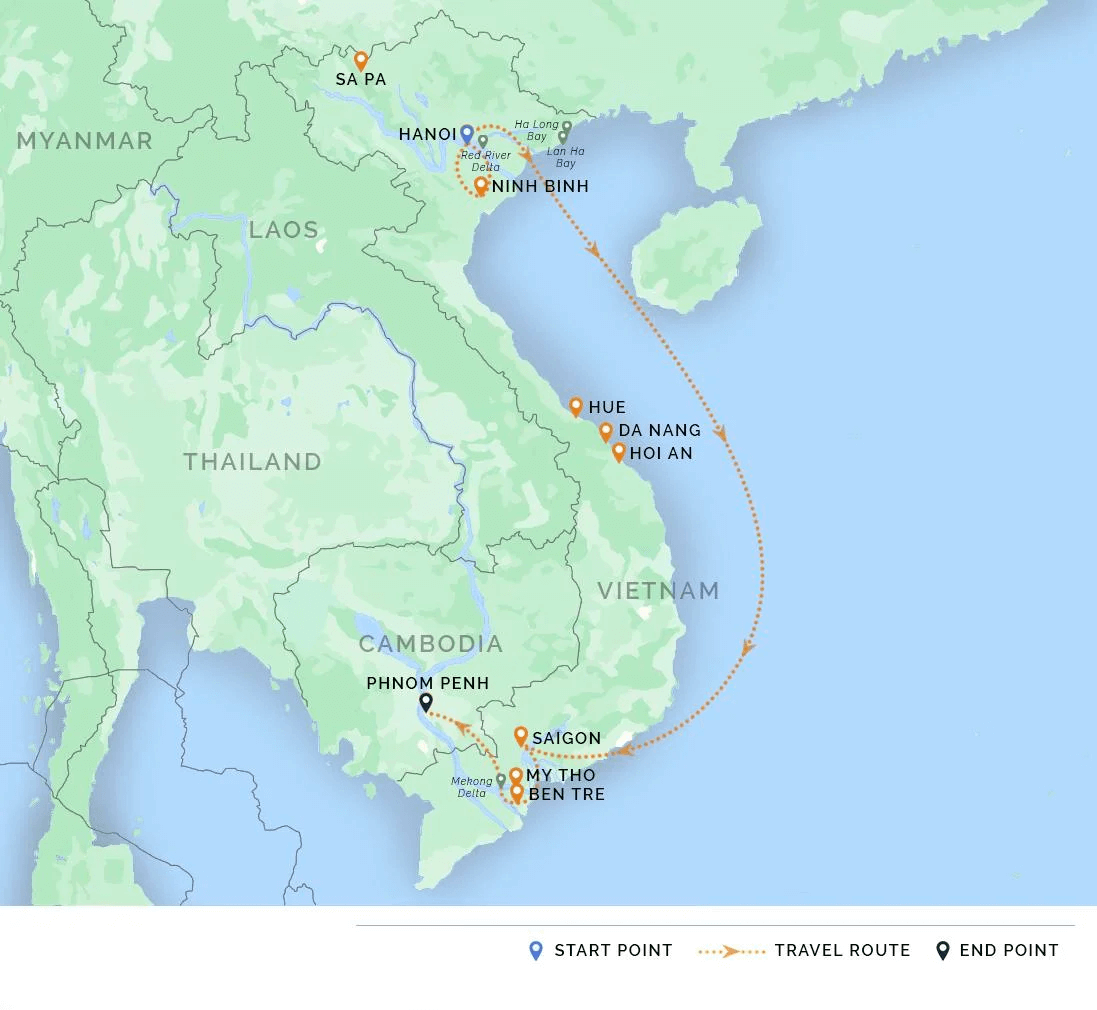 AVAILABILITY
| | | |
| --- | --- | --- |
| Accommodations | Double | Single |
| Boutique | $ 4,210 | $ 6,300 |
PLACES VISITED
Hanoi
Ninh Binh
Saigon
Mekong Delta
Vietnam Mekong
Phnom Penh
ACTIVITIES
Back-Country Bike Rides
Colonial Era History
Cultural Performances
Experience Village Life
Explore Ancient Archaeology
Food Tours and Classes
High-End City Experiences
History of Khmer Rouge
History of Vietnam War
Practice Tai Chi
Ride Traditional Ox Carts
Support Schools & Families
Temples & Spirituality
UNESCO World Heritage Sites
Unique Photo Opportunities
This customizable tour can start on any date, subject to availability.
A beautiful riverboat with splendid French-colonial styled interiors reminiscent of a luxury hotel.