A handsome replica of a colonial-era river-steamer designed for off-the-beaten track exploration.
Shared, small group cruise based on DBL occupancy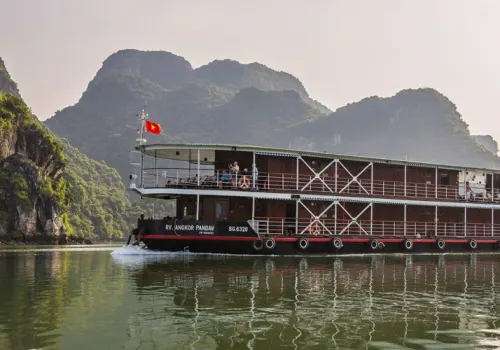 The 138-ft Angkor Pandaw is a handsome replica of a colonial-era river steamer dating from 1865. Her teak decks and brass adornments create a wonderfully authentic atmosphere as you cruise through some of Northern Vietnam's most stunning landscapes. With only 16 cabins over two decks, the Angkor Pandaw experience is all about exploring remote and often hard-to-navigate river sites in a specially-designed luxury small ship. The character features are combined with modern facilities and superb service to ensure that your journey will be a comfortable one.
Your Accommodation
The teak-lined cabins accommodate up to 32 passengers. Each is 168 square feet in size, offering ample living space with the same furnishings and amenities, including air-conditioning, a desk and chair, an en-suite bathroom, and French windows, as well as a private balcony for optimal views along the river.
Double or twin cabins are available. The Upper Deck with its walk-around promenade has six cabins while the Main Deck is similar with 10 cabins. You can look forward to fruit and flowers on arrival, kimonos and slippers, spa-branded amenities, unlimited mineral water, free use of a mini-DVD-player on request and selection of DVDs from the library.
Life On Board
You will want to spend much of your leisure time on the partially-shaded Upper Deck. Here, you can relax on a teak lounger and take in the sights of Vietnam going by; local families in their traditional floating homes will often stop what they are doing to wave as you drift past, giving you a glimpse into their water-based way of life. The Upper Deck also has a library, a fair-trade shop and a small covered deck.
Be sure to take advantage of the open-bridge policy; this is the Captain's Deck where the weather and charts are studied, where plans for the journey are decided and where the magic happens. Meals are served in the air-conditioned restaurant affording panoramic views. Produce is fresh, regional and seasonal.
The Angkor Pandaw Cruise has two guides who give daily briefings at cocktail hour, and accompany all excursions, which are daily and free. Some local entertainment is offered, such as folk dancing performances and puppet shows, and the ship also has quality mountain bikes for your independent exploration.
Life On The Red River
The 'Song Hong' or Red River in Northern Vietnam is an ancient trade route. Hanoi, the busy and ancient capital of Vietnam, straddles the river, while close to its mouth lies the island-studded Halong Bay, a UNESCO World Heritage Site on the Gulf of Tonkin. The Angkor Pandaw is the only cruise ship to ply this river and its network of tributaries.
The journey through the many towns and villages will give you a glimpse of both rural life and industrial muscle, with low-key excursions emphasizing the traditions that remain vital to Vietnamese life, from visits to a village whose residents specialize in making conical hats to one that grows bonsai trees. Scheduled itineraries vary in accordance with the season but the highlight of every voyage is a night or two at anchor amid the beautiful towering and jagged karst formations of Halong Bay.
11 DAY DOWN
11 Day – Red River Cruise: Hoa Binh – Halong Bay (Downstream)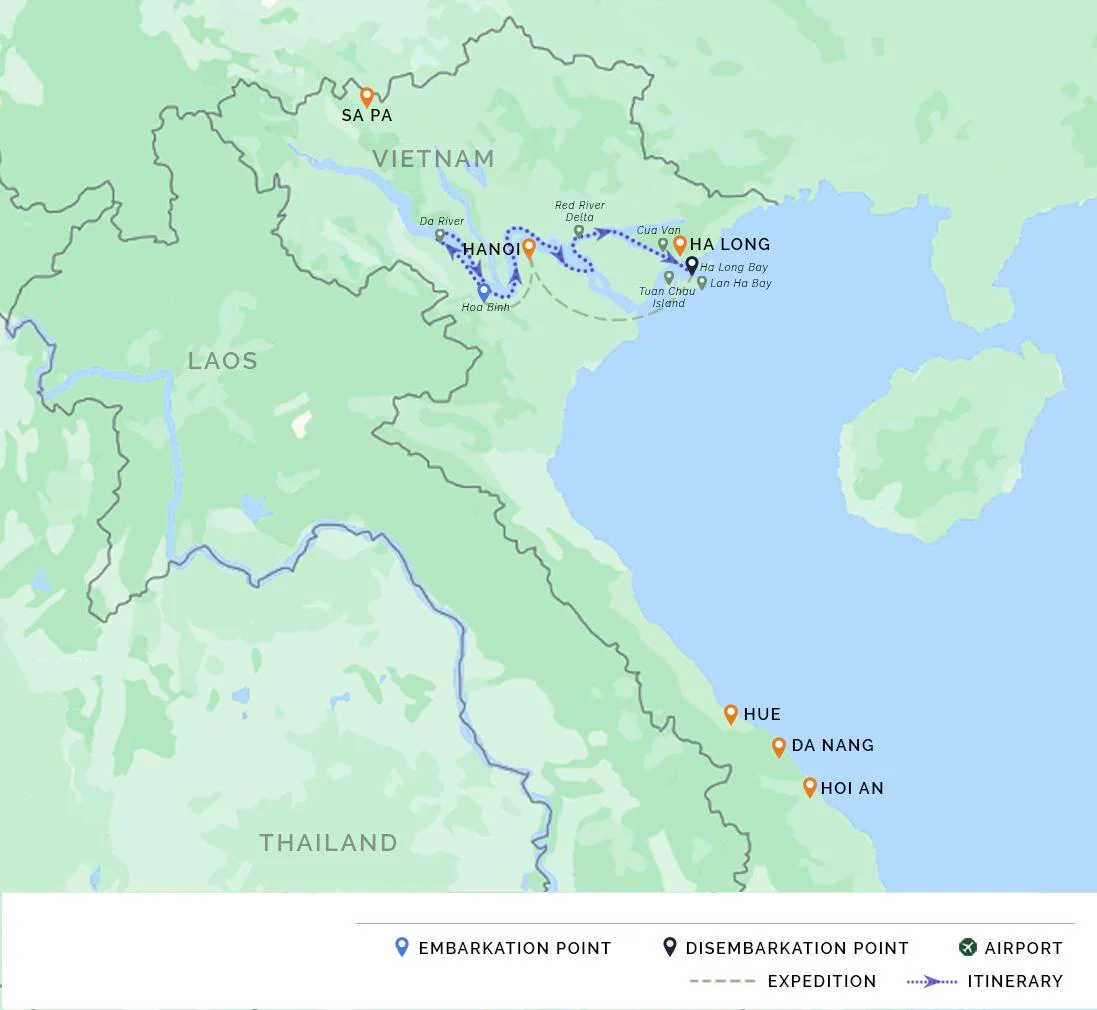 AVAILABILITY
| | | |
| --- | --- | --- |
| Cabin Type | Double | Single |
| Main Deck Stateroom | $3,938 | $4,686 |
| Upper Deck Stateroom | $4,851 | $5,773 |
11 DAY UP
| | | |
| --- | --- | --- |
| GUESTS | SIZE | BEDS |
| 2  | 16 m² / 172 ft² | Double / Twin |
These ample-sized rooms feature various amenities to ensure guests have a comfortable stay. On request, guests can get a mini DVD player and enjoy some entertainment in their rooms. The room also comes with spa-branded amenities and a hairdryer to ensure guests stay refreshed.
| | | |
| --- | --- | --- |
| GUESTS | SIZE | BEDS |
| 2  | 16 m² / 172 ft² | Double / Twin |
Guests looking to entertain themselves from the comfort of their rooms can get a mini DVD player on request. The rooms also feature unlimited mineral water for guests to stay dehydrated at all times, kimonos, slippers, a hairdryer, and spa-branded amenities.