A unique and boutique yacht available for private cruises around Thailand's southern islands.
Shared, small group cruise based on DBL occupancy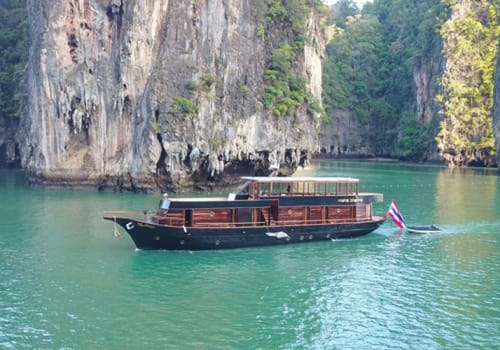 Uniquely and elegantly designed by Ed Tuttle (the famous Amercian architect behind the exclusive Aman resorts), the 90ft wooden hulled Maha Bhetra yacht is a boutique hand-crafted charter vessel offering bespoke itineraries around Thailand's southern islands, the Southern and Northern Andaman Sea, and even as far as Malaysian waters, India's Andaman Islands, and Myanmar's Mergui archipelago upon request.
Life On Board
Seamlessly combining ancient and modern worlds, Maha Bhetra's chic social areas and contemporary neutral-toned interiors are accenting with authentic Southeast Asian antiques from the late 18th Century. The saloon boasts a bespoke designed louvered cabinet hiding sound systems and glassware, and her staterooms are adorned with tiger-patterned rugs.
The yacht's accommodations stretch over two decks, her Main Deck housing three near-identical palatial double cabins which comfortably cater to up to 6 adults (plus 3 children if willing to share a bed with their parents), and her spacious, open-plan Upper Deck featuring an all-teak saloon and extensive lounger-laden exteriors, perfect for socializing whilst taking in unrestricted views of the region.
As anyone who's ever chartered a luxury yacht will tell you, while it's naturally important your yacht has all the amenities you need, the most important factor by far for an unforgettable experience is the crew. Maha Bhetra's fun-loving crew of 5—including a Cruise Director—are highly personable, well-trained and well-seasoned, with over 20 years' experience on board.
The on board chef, Kate, prides herself in creating an elegant onboard dining experience embracing the classics of Thai cuisine, all served in a beautiful relaxed atmosphere. All meals are included, as well as gourmet snacks, fruits, drinking water, tea, coffee, soft drinks and local beers to satiate your thirst for adventure.
Exciting Activities
Experience the ultimate sailing adventure with onboard and off-board activities specially arranged by the Cruise Director. Snorkel in some of the densest and most diverse marine habitats in the world with the snorkeling equipment provided, explore the region's azure waters on the available kayaks or paddleboard, find your inner zen on top deck with some yoga, or simply watch the world go by on remote, pristine beaches. There is also a fishing rod for your use, and deck hand Witt jumps at any excuse to impart his experience and passion for big game fishing by taking guests fishing and teaching them to trawl a lure.
Should you wish to partake in different activities such as scuba diving, free-diving, jet skiing, wakeboarding, wildlife encountering, or trekking, you just need to let us know in advance and we'll make it happen.
Exotic Destinations
The yacht is based in paradisiacal Phuket, often cited amongst the world's finest beach destinations with its fine white sand, nodding palm trees and lively towns. Blessed with more than 30 amazing beaches, Phuket has something to offer for all tastes and budgets. But it's further afield after setting sail that the region's riches really reveal themselves.
While there are few ports of call as such, the Thai waters are home to dozens of islands, most of them national parks with spectacular white-sand beaches and fantastic marine life, all vying to be explored. Maha Bhetra's simple elegance, spacious cabins, and customizable itineraries make her the ideal vessel to do this, the perfect option for small families or groups of friends wishing to discover Thailand's tropical treasures.
3 DAY A
4 DAY B
4 DAY C
7 DAY D
3 DAY A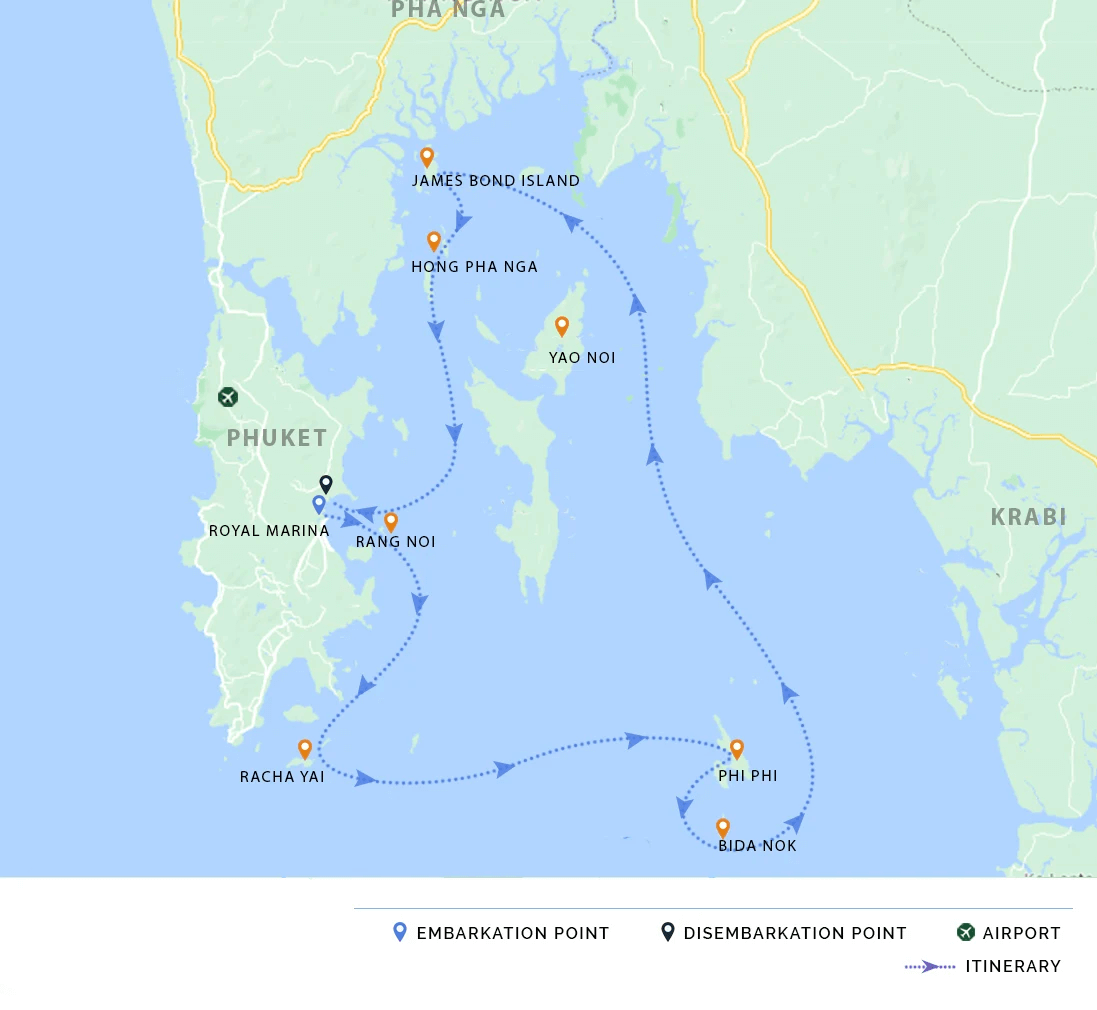 VESSEL CAPACITY:
6 GUESTS –
3 CABINS
A 20% supplement applies during Peak Season (20 Dec – 10 Jan).
Speak with one of our travel specialists for more price details and availability.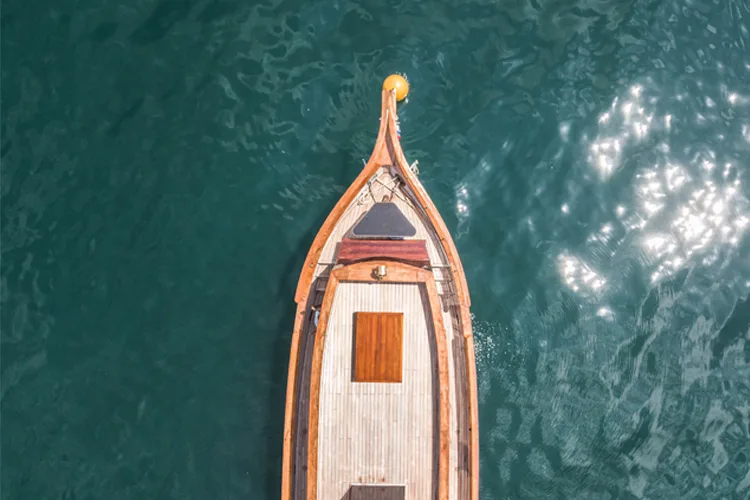 Embarkation - Mai Thon - Koh Racha Yai
After embarking the Maha Bhetra in Phuket, sail to Mai Thon and dive into its crystal clear waters. Discover a whole new world underneath; a thriving coral sanctuary that is home to 400 species of fish and spectacular marine life. Relax and bask in the glow of the glorious warm sun by the shore and feel the waves as they touch the soles of your feet. Look out into the horizon and if you are lucky, you might spot some dolphins frolicking in the sea.
Later explore Koh Racha Yai, famed for its beautiful beaches, visiting the two larger beaches of Patok Beach and Siam Bay and smaller ones Lha Bay, Ter Bay, and Kon Kare Bay, located on the eastern side of the island.
Optional dinner at The Racha Resort.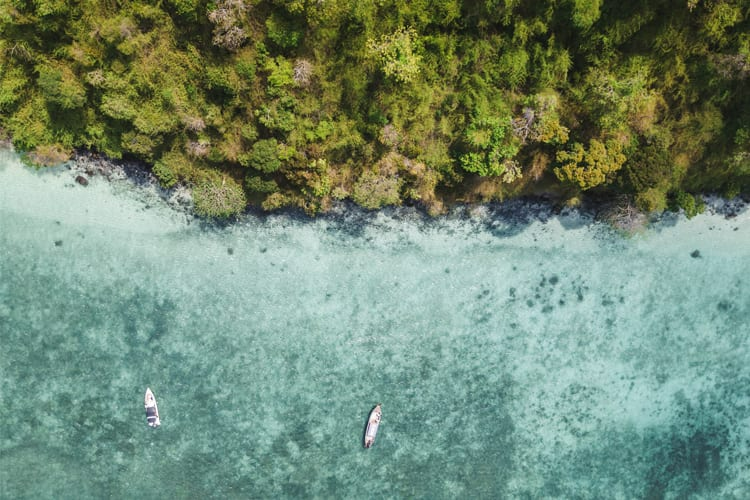 Koh Phi Phi - Monkey Beach - Maya Bay
Today explore famous Koh Phi Phi, a group of six stunning islands. The two main islands are Phi Phi Don and Phi Phi Leh. The larger and inhabited Phi Phi Don attracts hundreds of visitors to stay on its lovely shores while the smaller uninhabited Phi Phi Leh hosts stunningly beautiful bays and beaches, including the world-renowned Maya Bay, which was the set where The Beach (with Leonardo Di Caprio) was filmed.
Marvel at Monkey Beach, a simply stunning150m-long strip of white powdery sand fringed by emerald water, located on the southwestern side of Tonsai Bay, about 700m from the jetty. The backside of the beach is a rather steep limestone cliff, covered with lush vegetation that offers monkeys a comfortable habitat, which is where it gets its name from.
Later, behold heaven-like Maya Bay's stunningly beautiful shores sheltered by 100-meter-high cliffs on three sides, and made famous as the set where The Beach with Leonardo Di Caprio was filmed. Inside the bay there are several beaches—the main one some 200 meters long, others smaller and only visible at low tide—all with silky soft white sand sloping into exceptionally clear waters that reveal a reef of colorful coral and exotic fish.
Dive Koh Bida Nok, the largest of Phi Phi's most southerly islets, and open to all levels of diver. Divers usually enter the water on its eastern side and steadily move south around the rock. It is home to a large variety of marine life and is especially renowned for its zebra sharks and stingrays lying on the sand.
Option dinner at Zeavola Resort.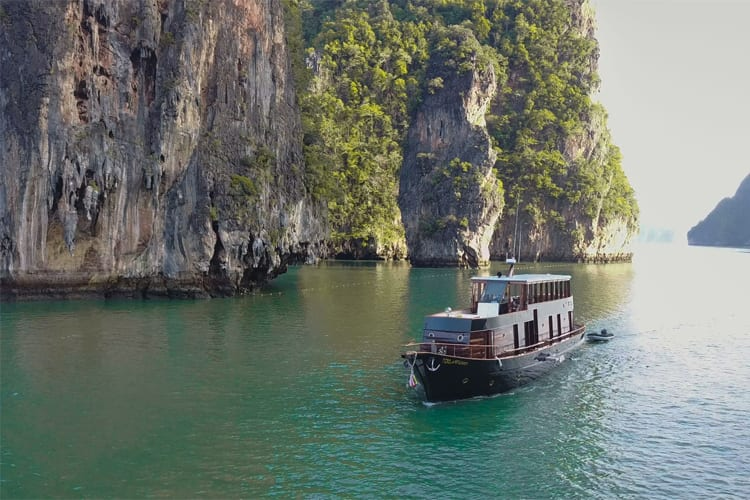 James Bond Island - Disembarkation
Next stop, James Bond Island, a small rocky island located on the north side of the cove of Khao Phing Kan island, southwest of Ao Phang Nga National Park, named after its starring role as a setting in the James Bond movie, The Man with the Golden Gun (1974). 
Nearby, explore Koh Hong Phang Nga, an island formed from collapsed cave systems open to the sky and surrounded by towering limestone walls. Accessible only by kayak through a cave, discover a hidden realm rich in unspoiled flora and fauna, right in the very heart of the island.
For your finale, choose between dinner party options at Koh Yao Yai or Six Senses Koh Yao Noi.
4 DAY B
4 DAY C
7 DAY D
| | | |
| --- | --- | --- |
| GUESTS | SIZE | BEDS |
| 2 – 3  | 20 m² / 215 ft² | Double / Twin |
Maha Bhetra's three identical, elegant Staterooms are all located on the Main Deck, and feature wooden-blind windows, authentic décor, and not one but two European Double beds (140cm x 200cm).
Each has its own AC, en-suite bathroom with shower, sink and vanity, and a dressing area with chair and two built-in wardrobes for storage.